​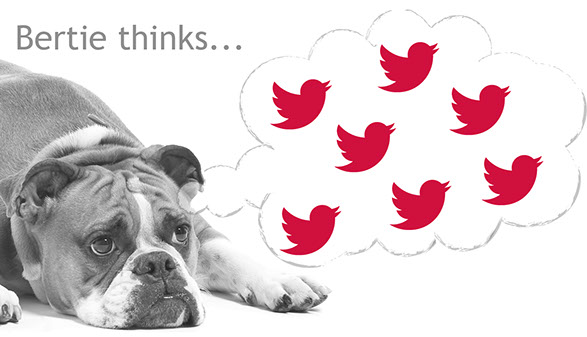 #7

Be a branded social butterfly

I've already shared my mantra for good branding:  Consistency, consistency, consistency! When it comes to your social media this of course is just as important.

To have a Twitter or Facebook business account that bare no resemblance to your website, brochures or exhibition stand is just a wasting a chance for your company to be recognised by your branding and be remembered for what you're saying on line.

I use Twitter to keep my current, and future, clients in touch with what I'm up to at the moment in the studio, while giving them an idea of the 'personality' of Crimson Graphics too. So I don't share cute clips images of kittens jumping out of boxes or personal news, just work related updates. However I have included the image of Bertie the 'Branding Bulldog' on my feed to add some appropriate humour and break up the run of work in progress tweets.

I would recommend using a photo of yourself so people can see the real person behind the business, pulling on the old adage that 'people buy from people'. What ever you do don't leave the default image on your feed for very long, no one will want to interact with an bland anonymous head-shot, you need to stand out from everyone else out there with something to say.

Also the header image of your feed is a great way of letting all your followers know about your current promotions. I create images for one of my clients every month so all three of their social media feeds consistently show their offer of the month in the top of the page.

Most importantly remember to set up your images at the right size and be aware of where the profile image will fall for Twitter so that it any important area of the head isn't hidden behind your profile portrait. Nothing looks more unprofessional than an image that has been stretched out of proportion to fill the area when uploaded. Here are some important sizes for the main platforms as of July 2017, beware they change quite often!

Facebook
Cover image: 820 pixels wide x 312 pixels tall on computers
Profile image: 170 x 170 pixels
Post image: 1200 pixels wide x 630 pixels tall

Twitter
Header image: 1500 pixels wide x 500 pixels tall
Profile image: 440 pixels wide x 220 pixels tall
Post image: 1200 pixels wide x 630 pixels tall

I would recommend that you choose a theme colour to match your branding using the hex colour number supplied by your branding designer.

Pinterest
Profile images: 165 x 165 pixels
Board cover: 800 x 800 pixels
Pins: 238 pixels wide x adjusted to height
Expanded pin size: 735 pixels x adjusted to height.

LinkedIn
Profile images: 400 x 400 pixels
Board cover: 1400 pixels wide x 425 pixels tall
Content image: 550 pixels wide x 375 pixels tall

All images for social media should be saved as RGB jpegs or ping files.

Of course if you are stuck for ideas call me a social media header will only cost around £40* +vat

*Price quoted for 2017
Have our design tips helped you?
Then please follow us on Twitter for all the latest news and tips about our mission to help startup and established businesses to have great branding, flyers, brochures, packaging and exhibition stands!